Junior High Volleyball: The 8th grade volleyball team plays tonight in the semifinals of the Visitation IESA Regional vs Williamsfield at approximately 6:30pm.

High School Winter Sports Banquet: The girls basketball, boys basketball cheerleading, and boys basketball banquet will be held Thursday, March 9 at 7:00pm.


Sports Update 2/27/23: Junior High Volleyball - 5:30pm vs Williamsfield at Monmouth ICS IESA Regional Fresh-Soph boys basketball - 7:00pm vs Princeville at Wethersfield


Friday, February 24th will be an early dismissal at 11:35. Sack lunches will be provided for students that would like to sign up. Please remind your child to sign up if you are in need of a take home lunch. Charges apply to each student based on their lunch program status.

The 8th Grade Promotion will take place on Tuesday, May 23rd at 7pm in the HS gymnasium. 8th graders will not attend school on Wednesday, May 24th.


Sport Schedule Update: 2/21: Junior High Volleyball - Lincoln Trail Conference Tournament Both teams have advanced to the championship games of the LTC VB Tournament held at Williamsfield. 7th Grade Championship game - 5:00pm 8th Grade Championship game follows the 7th grade game. 2/21: High School Girls Basketball - Sectional semifinal at Abingdon High School vs Havana, game time approx. 7:30pm. 2/22: High School Boys Basketball - Regional semifinal at United High School vs Elmwood, game time approx. 7:30pm.


High school basketball updates: High school girls regional championship game at Wethersfield scheduled for today (2/16) has been postponed until tomorrow, Friday (2/17) 7:00pm game time. High school boys basketball at Mercer County scheduled for today (2/16) has been postponed until tomorrow, Friday (2/17). This will now be a varsity only contest starting at 5:00pm.

Due to inclement weather, both the HS and JH Scholastic Bowl meets are canceled.
Annawan Schools will be canceled today due to the current path and timing of the storm. Students will be expected to participate in an e-learning day. Stay safe.
The Annawan School District is also looking for bus drivers. The District is interested in both part-time or full-time drivers. Substitute drivers for routes are badly needed. If interested, please contact Superintendent Jamie Bryan (309 935-6781 or email
jbryan@annawan226.org
).
The Annawan School District is looking for a person to fill a part-time janitorial position. The district is looking for a person who is self-motivated, has a good work ethic, and is dedicated to serving the students of District #226. The part time position consists of 5 hours/day as a second shift janitor. The janitor will have set routine of hallways and classrooms he/she is responsible for cleaning plus this position will also help in the evening with activity set-up and tear down. If interested please contact Superintendent Jamie Bryan (309 935-6781 or email
jbryan@annawan226.org
).

Annawan Sports Boosters Fundraiser: Catfish Fry Fundraiser Friday, March 17 Serving at 4:30 Old Sacred Heart Parish Hall See attached flyer for more information.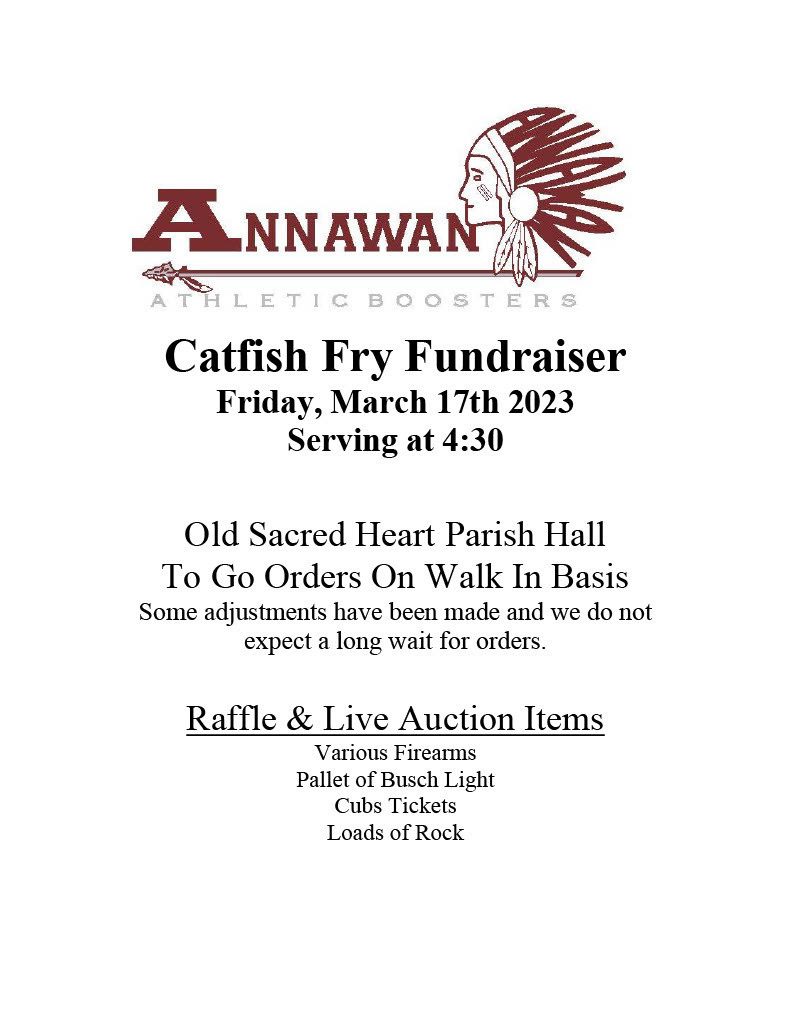 Junior High Volleyball update: The game with Visitation scheduled for Monday has been moved to Thursday, February 9. 5:30 start time. Pink Night will take place on Thursday.

Annawan vs: Visitation - Pink Night - Thursday 2/9 @ 5:30pm. ------- (see attached image for more info)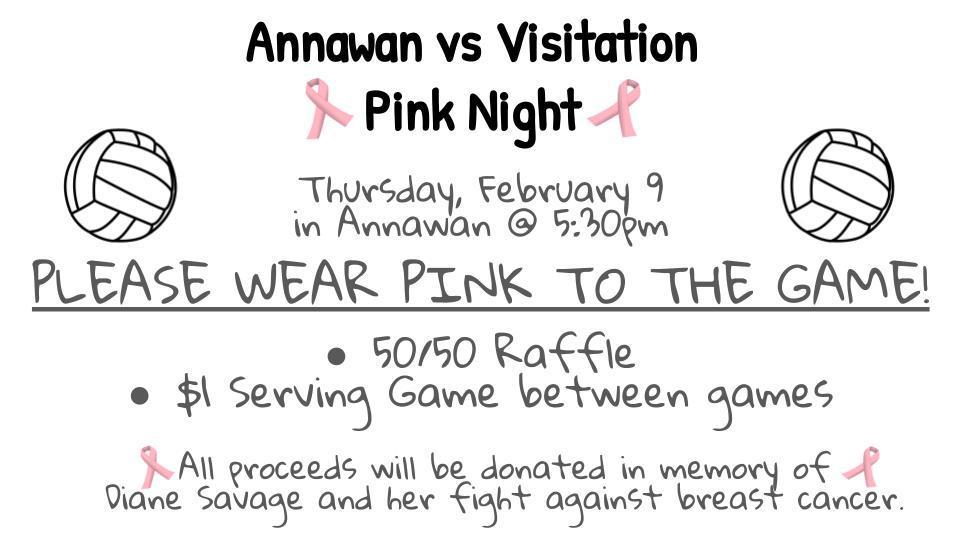 Sports schedule update: Monday, February 6: IESA 8th Grade Sectional Basketball Game will be played at St. Bede Academy in Peru. Game time is 6:30. The High School boys basketball game with Princeville originally scheduled for Tuesday, February 14 has been moved to Wednesday, February 15. The Junior High volleyball game with United scheduled for Wednesday, February 15 has been moved to Tuesday, February 14.